Mobile bars in Puerto Rico
Drinks, liquors and international cocktails catering with certified bartenders. Mobile bar service.
Our purpose is that you have to host not worry about bar services, we will provide the most complete packages including bars, bartenders and spirits.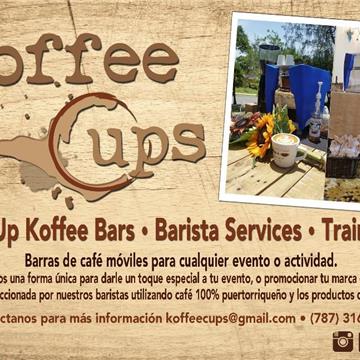 Guaynabo, San Juan
PopUp Koffee Bars for any event or activity. Add a special touch to your event or promote your product with every cup of coffee compiled by our baristas with 100% Puerto Rican coffee.
San Juan
Our New Tiki house is rented for activities such as tiki bar concept.
Aguas Buenas, San Juan | 787-940-3575
Dos Tazas Coffee. It is a mobile bar, with which we provide our specialty coffee and barista services for private activities.
San Juan | 787-242-5322
We select wines, liquors and high quality cocktails that impress. We have Jet Chill machines with us, as the only representatives for PR. Smoke and colors add to the enjoyment.
Guaynabo, San Juan | 787-210-1708
By choosing us you get quality, guaranteed excellent service, punctuality and personal service. We work with your budget. We coordinate and supervise, vast experience in special events.
San Juan | 787-762-0165
A space within the Parque Luis Munoz Rivera, allocation for 100 people, two terraces, one overlooking the sea and the other overlooking the park. Our decor is Vintange with a romantic air.
San Juan | 787-403-1908
CAVA Online
CAVA is an online wine store where we have a wide variety of products of very high quality in different price categories.
San Juan
Specialty Service
Cidra, Guayama
SY Maisonet Bartending
Bartender
San Juan | 787-324-7437
Aché Bar
Isabela, Mayagüez
The Chef's Table
The Chef's Table offers all kinds of services for family and corporate events, weddings, fifteen parties, etc.
Coamo, Ponce | 939-366-0044